Speed up client onboarding and reduce errors
Save time and increase revenue and advisor productivity with our innovative software.
Jen chooses to work with your firm
Auto signing package creation
John selects the custodian forms for Jen's signing package.
He sends Jen one secure digital signing package for her account.
Application completion
Jen receives and signs documents.
Account opening
Custodial forms are auto-submitted to the respective custodian.
Jen's account is ready to be funded.
Moving forward, John can use Agreement Express to send custodial maintenance forms for Jen.
Client onboarding benefits when you utilize our software
Customize your experience
We give you the tools, you make them your own. Our white-labeled software lets you customize the client experience and automate as many or as few processes as you want.
Enjoy clean interfaces
We developed our software with you, the user, in mind. Our solutions have intuitive workflows to optimize the client experience by saving time throughout the client life cycle.
Stay consistently compliant
All custodian, proprietary, and optional forms stay up to date and automatically update to match current industry compliance standards.
Choose to collaborate
You get a partnership; we want to help you understand your data, giving you best practices and actionable advice for the future. If you don't need us, our software is simple enough to use independently.
Solutions
Better client solutions mean happier clients
And happier clients mean more business for you. Our streamlined application pages give clients a guided experience, which means less errors and lower NIGO rates. Paired with our single signing packages and straight-through processing, Advisor360° Express makes working with your firm a dream.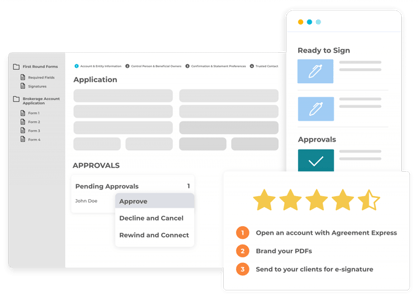 Digital Onboarding platform
Decrease time to revenue and do more business
Improve the onboarding experience for both your clients and your advisors. Keep NIGO rates at 0% with automated information checks, guided client application completion, and a rewind function to fix the little errors without having to start over.
Create customized single signing packages
Integrate with your existing CRM and KYC tools
Leverage our advisor workspace
View data and track transitions in real time
Integrations
Seamless and secure data management, so you don't have to choose between easy and safe
We keep all your documents organized and bundled by account for easy access and life cycle tracking. Plus, our data integrates into any platform in your tech stack. You can have everything you need—in any place you need it.
Available custodian integrations



Available CRM integrations





Did Advisor360° purchase the digital onboarding capability from Agreement Express?
Can I pass the data from my CRM to Advisor360° Express?
Is Advisor360° Express's e-Signature tool easy to use?
Can I easily check the status of the applications I've sent?
Can I send multiple custodian applications from one place?
What types of custodians can have accounts with Advisor360° Express?
What happens if my client makes a mistake?
Let's talk
Want to start talking bigger ideas and better business?
Get in touch with us today.