Advisors are losing business due to subpar wealth management solutions
While the right technology may give financial advisors an edge, the wrong technology can cost them real dollars and real clients. In the inaugural 2022 Connected Wealth Report, we asked financial advisors and executives across the U.S. for their perspective on the role that their technology plays in helping facilitate their business.
Read the report and gain insights like:
of advisors have lost business from clients and prospects because of outdated technology
of advisors say Millennials & Gen Z require a different type of engagement than Boomers and Gen X clients
of advisors said that integrating social media platforms into client-facing tools is a must-have
of advisors said deeper investment product knowledge has dramatically impacted the way they work with clients
of advisors spend two hours on average scheduling, running, and reconciling reports before each client meeting
of respondents consider their technology to be an extension of their practice
Download the report today
Our 20-page report explores the role that a wealth management firm's technology plays in facilitating business. It examines how firms can use technology to build deeper relationships in the digital world and deliver a more seamless wealth experience.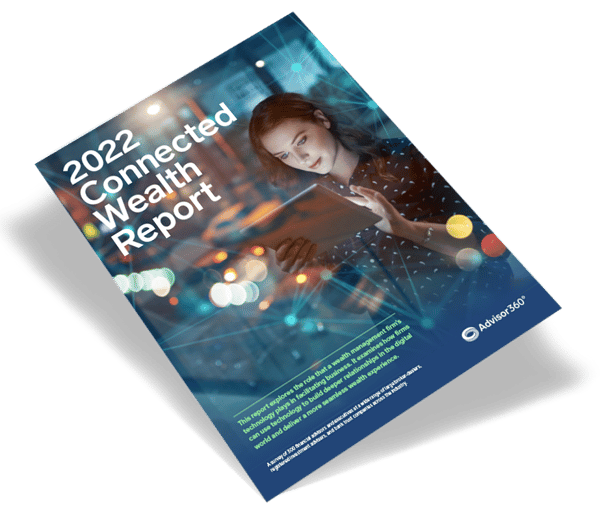 Advisor Tech Wish List: What advisors expect from their technology
In this 60-minute webinar, panelists discuss the biggest challenges advisors face with their current technology setups and the difference between wanted tech and needed tech. They explore the "right" level of autonomy clients should possess along with the communications and technology expectations of younger clients.
Panelists:


Scott Reddel | Managing Director, Wealth Management Lead, Accenture


Grant Piller | Financial Planner and Owner of Piller Financial Group, MassMutual


Richard Hart | Senior Vice President, Corporate Development, Advisor360°
Moderator:

Ryan W. Neal | Technology Editor, InvestmentNews
About the research
The Advisor360° 2022 Connected Wealth Report asked 300 financial advisors and executives at large broker-dealers, registered investment advisors, and bank trust companies across the U.S. for their perspective on the role that their technology plays in helping facilitate their business. The telephone- and email-based survey was conducted during September 2022 among financial advisors and other executives at firms with billions of dollars in assets under management and more than 1,000 employees on average. The survey was conducted by Coleman Parkes Research on behalf of Advisor360°. Advisor360° and Coleman Parkes are separate and unaffiliated organizations.
About Coleman Parkes
Coleman Parkes is a full-service B2B market research agency specializing in IT/technology studies, targeting senior decision-makers in SMB to large and enterprises across multiple sectors globally. For more information, contact: research@coleman-parkes.co.uk.