Advice360°™ is a series designed to help advisors increase their productivity using our digital wealth management software.
In this installment, Patrick Noonan, Advisor360°'s Product Manager for Wealth Management and Insurance, shows financial advisors how our new Dependent Workflows capability can save them time and enhance their clients' experiences.
Regardless of how diverse a financial advisor's book of business may be, many of the key tasks they perform for each client are actually very similar in nature, and the activities required to accomplish these tasks are almost identical. For this reason, workflows have become the backbone for any financial advisor seeking efficiency.
Advisor360° enables financial advisors to configure complex sequential activities into repeatable workflows that ensure every client receives a consistent and high-quality experience while minimizing the time it takes to provide this service.
What is more, Advisor360º workflows can be assigned to multiple back office employees who track what each other has done. This means they can complete the tasks without diminishing the quality or consistency of service or share the tasks with the entire office to establish best practices when dealing with clients' particular circumstances.
Our new Dependent Workflows capability allows advisors to be more detailed in the steps they take in unique business processes because we understand that certain steps can't happen before others—there are dependencies.
What are a few examples of successful financial advisor workflows?
Workflows not only keep advisors organized, they make advisors more efficient. We can scale and track repeatable processes, such as:
New Insurance Case Workflow
Insurance coverage design and generate insurance policy illustrations
Schedule a client meeting to review illustrations
Initiate insurance application (1 day after meeting)
Insurance company follow-up status check (5 days after initial application)
Deliver the signed documents
Schedule a policy anniversary phone call
New Client Onboarding
Schedule a prospect discovery meeting
Initiate client portal access and account aggregation access
Update household CRM data and document vault folders
Share documents on Investor360°
Schedule a financial planning meeting
Initiate an implementation workflow
Initiate an annual review workflow
Annual Review
Schedule an annual meeting
Send a meeting reminder with an agenda
Print a meeting prep 1-Click Review® (1 day prior)
Print a meeting packet (day of meeting)
Update CRM and manual assets (1 day after meeting)
Send the client meeting summary and follow-up tasks
Schedule the next annual review
What are the benefits of our new financial advisor workflows?
Users can create and manage multiple workflows with ease
Users can move, edit, modify, assign, and save workflows with a single click
Users can replicate and re-use their most successful workflows
When managing multiple workflows, dependent tasks can be assigned to numerous individuals without losing their dependencies
All users and assignees can see what everybody has completed and what they still need to do
Using all the above, users can quickly develop initiatives that forge deeper and more meaningful relationships with clients
How do advisors set up workflows for financial advisors and back office teams?
Drag-and-drop activites
Use our drag-and-drop functionality to quickly add CRM activities to a workflow template. Simply grab an activity icon and drop it before, after, or the day of a main event. Once an activity icon has been selected and dragged over, enter all necessary details in the activity pop-up.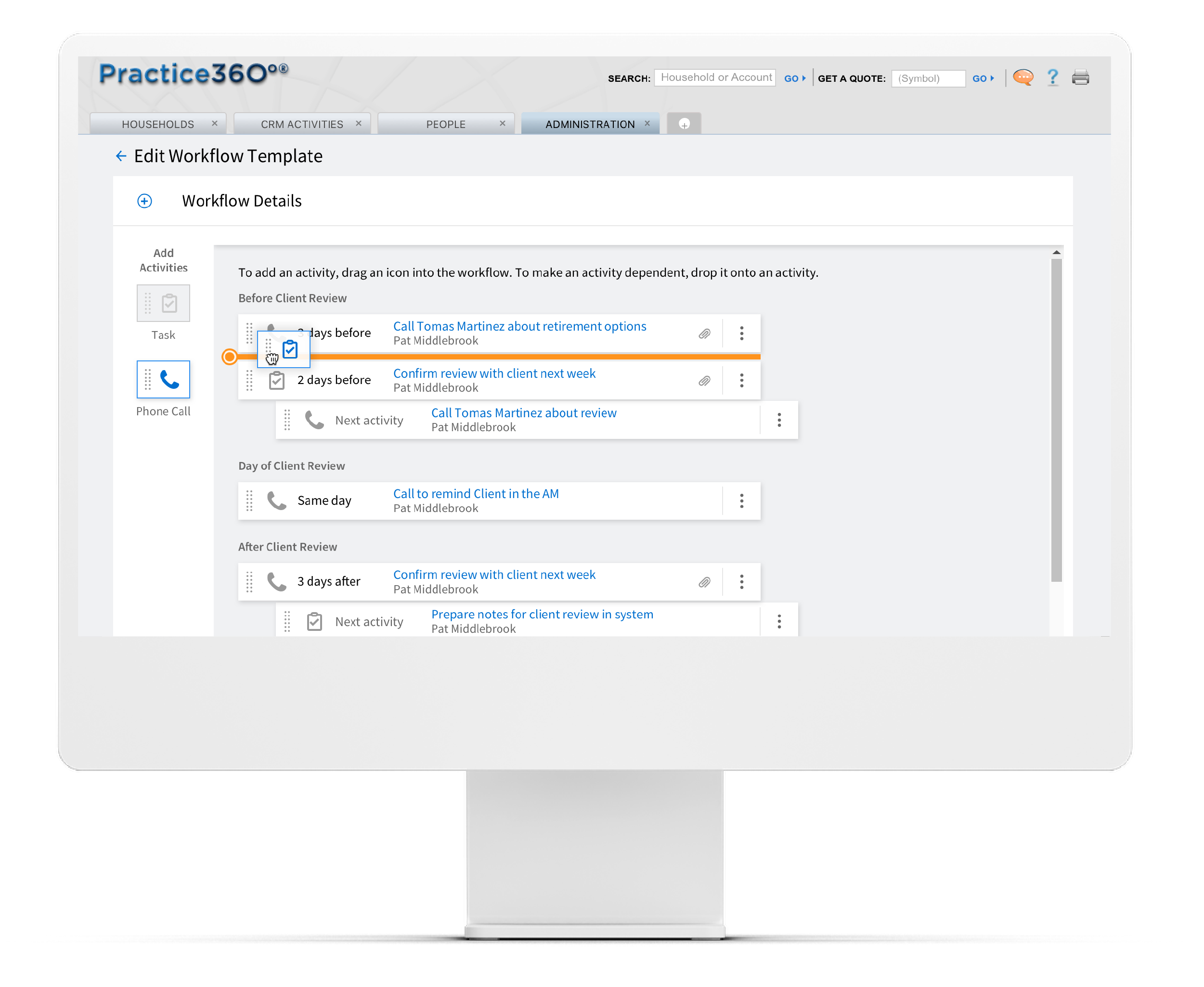 Dependent activities
Advisors can also drag an activity icon onto an existing activity, which will create a dependent relationship. This allows for a sequence of activities, ensuring that certain items are not started until a previous one has been completed. Drag and drop a parent activity into the new location if adjustments are needed. All child activities will follow the parent.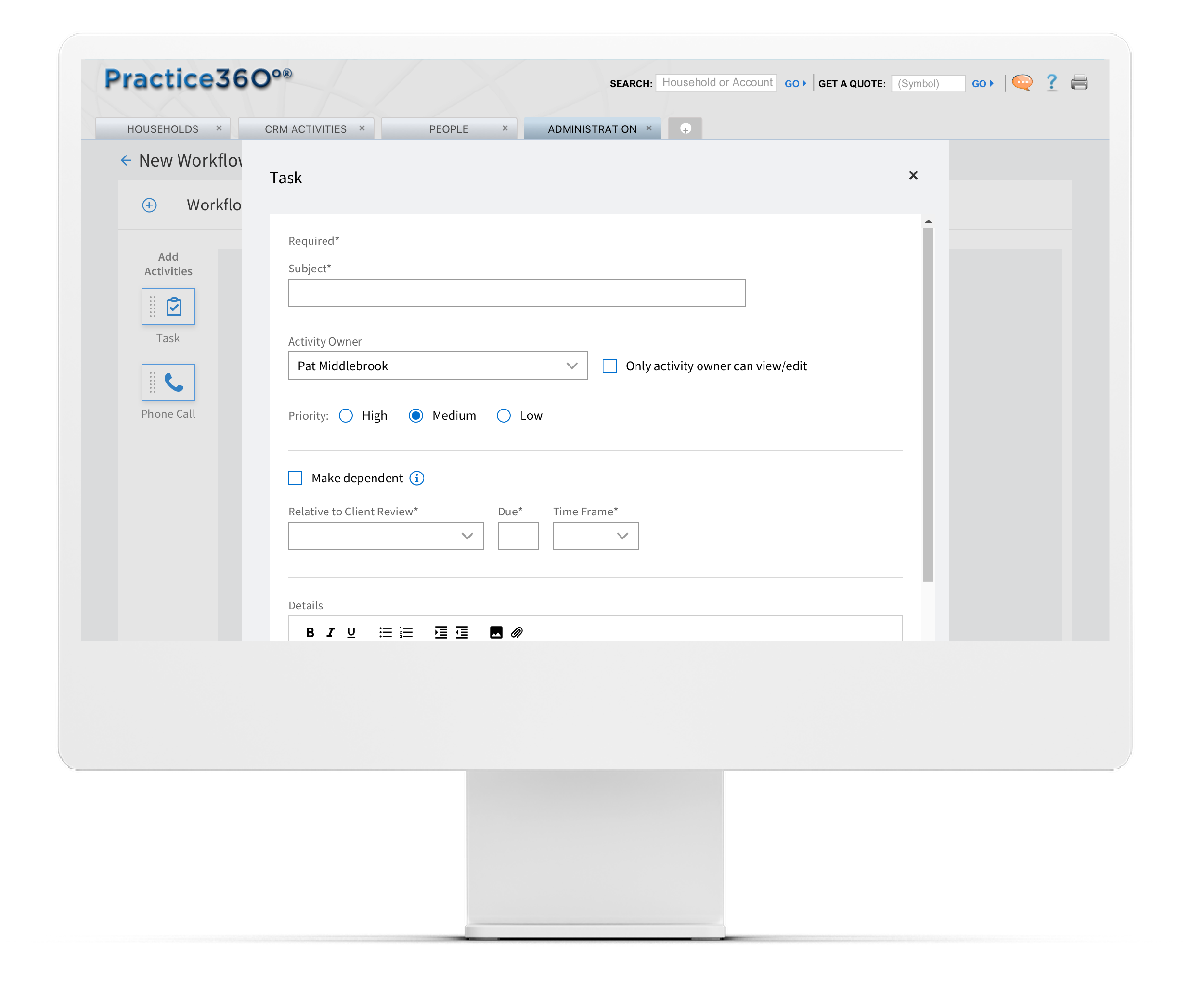 Applying a workflow
To apply a workflow, simply:
Select the template
Adjust the workflow name if desired
Select what it is regarding and the date of the main event
Make any necessary adjustments to the activity such as add, delete, move, or edit before saving
Once a workflow is applied, it can be monitored in our practice-level reporting feature, allowing users to view and filter all open activities and make targeted edits if necessary.
By utilizing our new Dependent Workflows capability, advisors can configure complex sequential activities into repeatable tasks, increase efficiency, and provide their clients consistency. While our insurance and wealth management capabilities are already the most sophisticated on the market, we plan to offer more features later in 2022 to further streamline processes for broker-dealers, advisors, and their clients.
Advice360° offers tips and guidance to advisors on increasing their productivity through the Advisor360° wealth management software. Learn what other wealth advisors are doing to benefit their practice.
Patrick Noonan is Product Manager for Wealth Management and Insurance. Backed by his years of experience as a Certified Financial Planner (CFP®), Patrick defines and oversees product features that improve broker-dealer, advisor, and investor performance and efficiencies in the banking, investment, and insurance industries.