Advice360° is a series designed to help advisors increase their productivity using our digital wealth management software.
In this installment, Patrick Noonan, Advisor360°'s Product Manager for Wealth Management and Insurance, shows financial advisors how our goals, proposals, and document vault capabilities can save them time and enhance their clients' experiences.
Advisor360º's new enhancements to our goals, proposals, and document vault capabilities have been designed to accelerate advisors' ability to meet the needs of clients. These key set of enhancements support our focus on improving how advisors can do their jobs and create happier clients.
Goals capability: Enabling advisors to build a plan with clients based on individual goals
The goals capability allows users to model standard asset allocation templates and integrates with our model management capability to bring in models made by the advisor, their firm, and third-party strategies. This enables the user to model their specific recommendation and illustrates to the client how this recommendation will impact their plan. Here are some of the new services offered:
Family setup: New family members
Advisors can identify new family members to include as part of the family setup in Advisor360º by pulling previously unidentified family members from accounts, policies, and CRM
Allows advisors to ensure all data for new family members and existing ones are updated and synchronized from our CRM, policies, and accounts data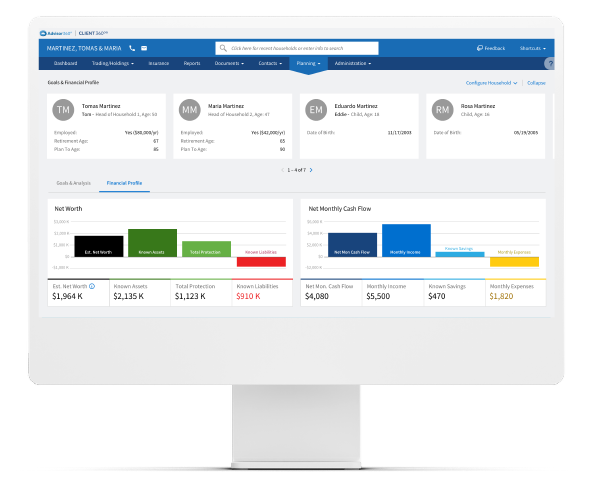 Asset and liabilities: Family member validation
Advisors can now aggregate assets and liabilities from client investment accounts or data manually entered by the client
Allows advisors to ensure proper family members are assigned to the right assets and liabilities
Expanded cash flow views
Categorize the income, savings, and expenses to provide detailed descriptions for each that aid in the financial planning process

Goal input
Allows the advisor to outline expenses, income, and other details associated with specific goals based on time frames and cost, for example:

Retirement
Weddings
Vacations

Expenses such as mortgage payoff and premium payments can also be set for specific payoff periods
Model management integration
Build an investment strategy directly aligned to outlined goals and recommend to the client
Enhanced goal charts
Advisors can now visualize probability and confidence levels of hypothetical scenarios and hypothetical ending values using enhanced Monte Carlo charts
Allows advisors to display a detailed projected cash flow chart where projected income, expenses, taxes, and required minimum distributions can be viewed
Advisors have access to new enhanced net worth charts that filter and sort by different parameters including time period (till end of last goal, retirement lifestyle, 5 years before and after retirement, 10 years before and after retirement)
Configurable planning assumptions
Allows advisors to adjust planning assumptions based on different inflation rates
Retirement plan proposal
Allows advisors to generate retirement plan proposal within the workflow of goals
Advisors can securely share the retirement plan proposal documents with clients
Proposals capability: Enabling advisors to generate proposals based on plan recommendations
The proposals capability isolates the asset allocation and investment recommendation portion of the client's financial plan. This allows advisors to look at one or many investment accounts and model different asset allocation strategies with a household allocation rollup. The proposal capability also offers back testing of your current and proposed portfolios. Here are some of the new features:
Investment recommendations
Allows the advisor to aggregate investment types from different sources to support recommendations
Allows the advisor to recommend two strategies for one account by splitting an account into multiple investment strategies
Allows the advisor to leverage an existing portfolio or create a new portfolio to create recommendations
Asset allocation charts
Allows the advisor and client to view assets at household or specific account level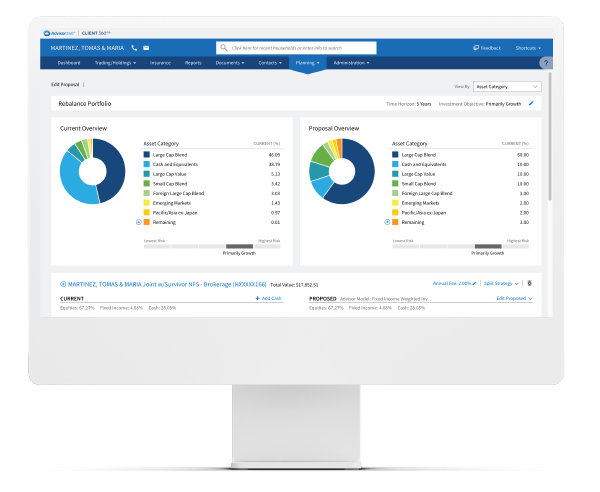 Portfolio management
Allows the advisor to add cash or securities to existing portfolio to model
Advisors can create a recommended portfolio utilizing model management capability to define an investment strategy
Goals integration
Advisors can illustrate future savings or withdraws in a hypothetical growth chart to show cash coming in and out of portfolio
Portfolio viewing
Advisors and clients can view the portfolio comparison asset allocation, analytics, and growth charts on-screen or in a PDF format that includes a cover sheet
Document vault capability: Allowing advisors and clients to securely share documents with one another
The document vault capability has an updated user experience that provides a more seamless navigation of folder structures and document search. Here are some of the new features:
New user experience
Allows advisors to have a more granular level of control over the folder structure, such as:

Create multiple subfolders under a primary folder
Bulk upload and share specific documents with investors
Drag and drop PDFs, JPGs, ZIPs, and/or MP3 files into the folder

Allows the client to upload their own documents
Integrates the Case Manager and investor portal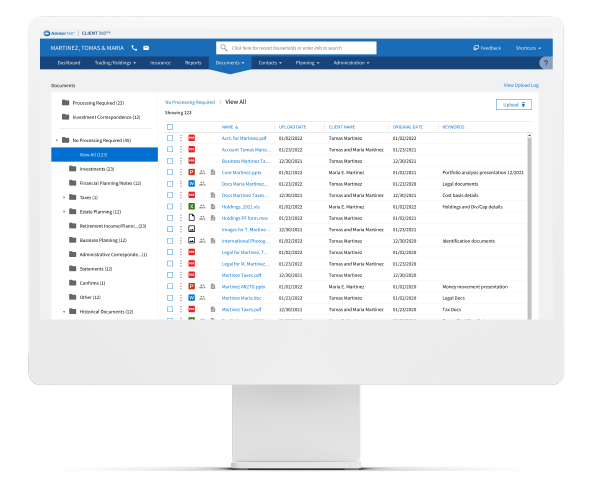 Our goals, proposals, and document vault capabilities demonstrate Advisor360º's commitment to market leadership, reinforced through innovation. This release is the latest in a set of product innovations released over the past few months and planned for 2022 and beyond.
Advice360° offers tips and guidance to advisors on increasing their productivity through the Advisor360° wealth management software. Learn what other wealth advisors are doing to benefit their practice.
Patrick Noonan is Product Manager for Wealth Management and Insurance. Backed by his years of experience as a Certified Financial Planner (CFP®), Patrick defines and oversees product features that improve broker-dealer, advisor, and investor performance and efficiencies in the banking, investment, and insurance industries.