Welcome to the first post in our Insurance Industry in Transformation series. Throughout this series, we'll look at the convergence of wealth and asset management trends that are compelling insurance companies to examine their siloed and product-centric approach of selling financial products. We'll focus on technology's role in accelerating the insurance agent's transformation to a wealth manager who provides holistic financial planning advice and solutions, going beyond insurance products to include investments and banking offerings as part of their solution set.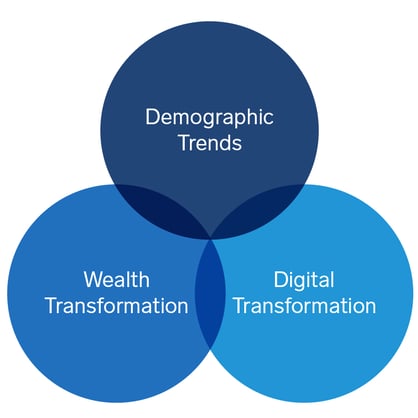 The insurance industry is finally catching up to what other financial services providers realized years ago: a product-centric sales approach isn't the best way forward. Today's consumers want solutions and guidance from a trusted advisor who takes into account the big picture of their financial lives. They are less interested in feeling like they are being sold products.
What's more, aging baby boomer clients, who are the core of many insurance advisors' client bases today, are already in or soon approaching the decumulation phase of their financial lives. They're actively seeking wealth and asset management guidance on income generation tools, as well as solutions for wealth preservation and wealth transfer.
There has never been a better time for insurance agents to grow their business across multiple insurance and investment lines, but they need the right technology platform to capitalize on the current and future opportunities. Unfortunately, in most cases, technology that insurance agents use today holds them back in the race to be their client's holistic advisor.
Why haven't insurers moved faster to adopt the wealth and asset management technology that drives innovation?
In part, a reason why insurers haven't moved faster to adopt technology is that, compared to other financial products, the sale of insurance products tends to take longer to complete. The paper trail is more in-depth, often requiring input from highly regulated third parties (e.g., doctors and other specialists), and it can take time to get the appropriate paper documents in order from various sources.
Given these challenges, it would make sense if insurance companies were leading the charge in developing technology that enabled innovation at the enterprise level. Insurance agents need an edge in working with their clients, who are being courted by others vying for the coveted financial quarterback role or "Personal CFO."
But change is hard—and it can seem expensive. Insurance companies have not moved fast enough to adopt technology that could accelerate revenue growth and increase operational efficiencies. Frankly, the ingrained proprietary product-centric approach has been profitable for quite some time, even with the paperwork delays.
This is all changing now. From the advent of online-only insurance companies to mobile apps that facilitate online customer engagement, technology is commoditizing the product-centric approach to insurance.
As it has done for every other industry, technology will continue disrupting the insurance business. To compete, insurance companies must revolutionize their back office technology so that the front of the house can step up its game.
Insurance agents can't sell financial products they can't see
The insurance employer's current technology ecosystem is comprised of outdated systems and disparate technology, giving their advisors no quick or easy way to offer their clients solutions versus selling them products.
This puts the advisor at a disadvantage in offering truly holistic financial guidance. He or she cannot easily see the big picture for their clients. There is no single view of each client's household profile showing investment and savings accounts and the policies they own (or do not own) to protect their financial assets such as term and whole life policies, disability policies, annuities, long-term care, and policies that are pending but not in force while in underwriting.
Though advisors may have plenty of detail on the products offered by their employer, they have few details on products not sold by their employer. The details that do exist about non-proprietary offerings live in a separate technology platform. And to make matters more complicated, their clients' pending policies are also housed in a different platform.
Because the multiple platforms and legacy systems do not "talk" to each other, advisors must act like professional jugglers and toggle between several applications, tools, and platforms to gather information that can help them do their jobs better. This involves using multiple sign-ons to collect data, which may or may not be correct or streamlined. The steps involved are complicated and time consuming—making the insurance advisor's job that much harder and less productive.
How are companies changing the insurance experience?
The insurance industry should not be held back by technology. Wealth and asset management technology should enable companies to streamline workflow at the enterprise level, increase advisor efficiency, and improve the customer experience.
If insurance advisors are to truly compete as holistic advisors, they need to stop acting as hunters and gatherers of data. For them to do this, their employers must adopt an elegant technology backbone that gives advisors seamless access to clean and correct information at the enterprise level, including client household data and product information (both in house and proprietary), as well as market data and access to education and training tools.
Fortunately, a seamless, integrated solution is out there. Those who use it are already seeing their businesses transform. For everyone else, it is a matter of seizing the opportunity to compete with the rest of the leaders in this space.
The time for insurance companies to change is now. Without a more seamless and integrated holistic view into their clients' financial lives, the insurance agent will never attain the coveted financial quarterback role. Until insurance companies take an integrated approach to their data management and back office technology, their advisors will be late to the starting gate and last to finish.
Patrick Noonan is Product Manager for Wealth Management and Insurance. Backed by his years of experience as a Certified Financial Planner (CFP®), Patrick defines and oversees product features that improve broker-dealer and advisor performance and efficiencies in the banking, investment, and insurance industries.