Advice360°™ is a new series designed to help advisors increase their productivity using our wealth management software. Learn what other wealth advisors are doing to benefit their practices.
In our first installation, Joe Marsh, Product Manager of Portfolio Reporting & Analytics at Advisor360°, shows wealth management advisors how Advisor360°'s reporting tools can save them time. For example, reports that used to take hours—or days—to compile and analyze now take seconds. And with our 1-Click Reviews®, advisors can run multiple reports simultaneously in a single step.
Learn how to increase productivity with our reporting capabilities
According to a 2019 study by Kitces Research, the average advisor spends 5.3 hours per week, every week, preparing for client meetings.
At roughly 275 hours a year, that's a lot of prep time, but it makes sense—how else can advisors demonstrate their value to clients and show how well clients are meeting their goals? And yet, when assembling their tech stack, broker-dealers tend to prioritize trading, model management, planning, and the CRM for their platforms, while portfolio reporting systems can be an afterthought. Although there are plenty of good reasons for this favoritism, client reporting is a key part of every advisor's business. So, let's talk about how we're making the process better.
The Advisor360° reporting tools can cut the amount of time spent on meeting prep in half (at least!) when used to its full potential. Yes, the Advisor360° platform has all the standard client-level reporting that discerning wealth management advisors expect and want—holdings reports, allocation reports, activity reports, and performance reports that can be calculated using both time-weighted return and internal rates of return.
But the reason the Advisor360° platform really shines and makes a meaningful reduction in how advisors use their time is our Unified Data Fabric™ (UDF).
Our not-so-secret time saver: Unified Data Fabric
UDF is the foundation that integrates other parts of our platform with reporting so that advisors can go to one place to show their clients things like a proposed rebalancing before it happens or progress toward financial goals. Clients can even see their insurance policies, investments, and outside assets.
But that barely scratches the surface on how the Advisor360° reporting tools can work for wealth management advisors. Our direct integration with custodial data feeds gives advisors the ability to run reports on things like automatic investments and withdrawals, required retirement distributions, and account suitability—all without having to leave Advisor360°'s platform and go to the custodian's website.
Our reports are highly configurable. Advisors can sort, group, and display data in many different ways. To save even more time, advisors can adjust their user settings so that favorite report formats are saved as templates, allowing them to access those formats quickly in the future.
These reports can be added to the main dashboard for even more direct access to frequently run reports.
Here are three ways that Advisor360° helps advisors increase their productivity with our reporting capabilities:
1-Click Reviews: Preconfigure and run a bundle of reports in a single click, collated by household
Filters: Use saved filters to create a group of accounts that fall under a specific criterion
Analytics: See practice-level performance, allocation, business statistics, and production in widgets
1. Use 1-Click Reviews to save hours each week on reporting
Our reporting capabilities also free up time for advisors and their teams through our 1-Click Reviews
1-Click Reviews are report packages that users build and then run with one click of a mouse (or tap of the screen). Thanks to a single click, advisors and their staff save several hours each week preparing for client or internal meetings.
Here's how it works: users bundle together reports—holdings, performance, operational, insurance, net worth, goal tracking, and more—into a 1-Click Review bundle. Thanks to integration with our CRM, advisors can even run multiple households in a 1-Click Review simultaneously, saving even more time. In fact, an advisor could, in a matter of seconds, run a 1-Click Review for all the clients who are scheduled for meetings during a particular week, and the reports would all run at once, collated by household.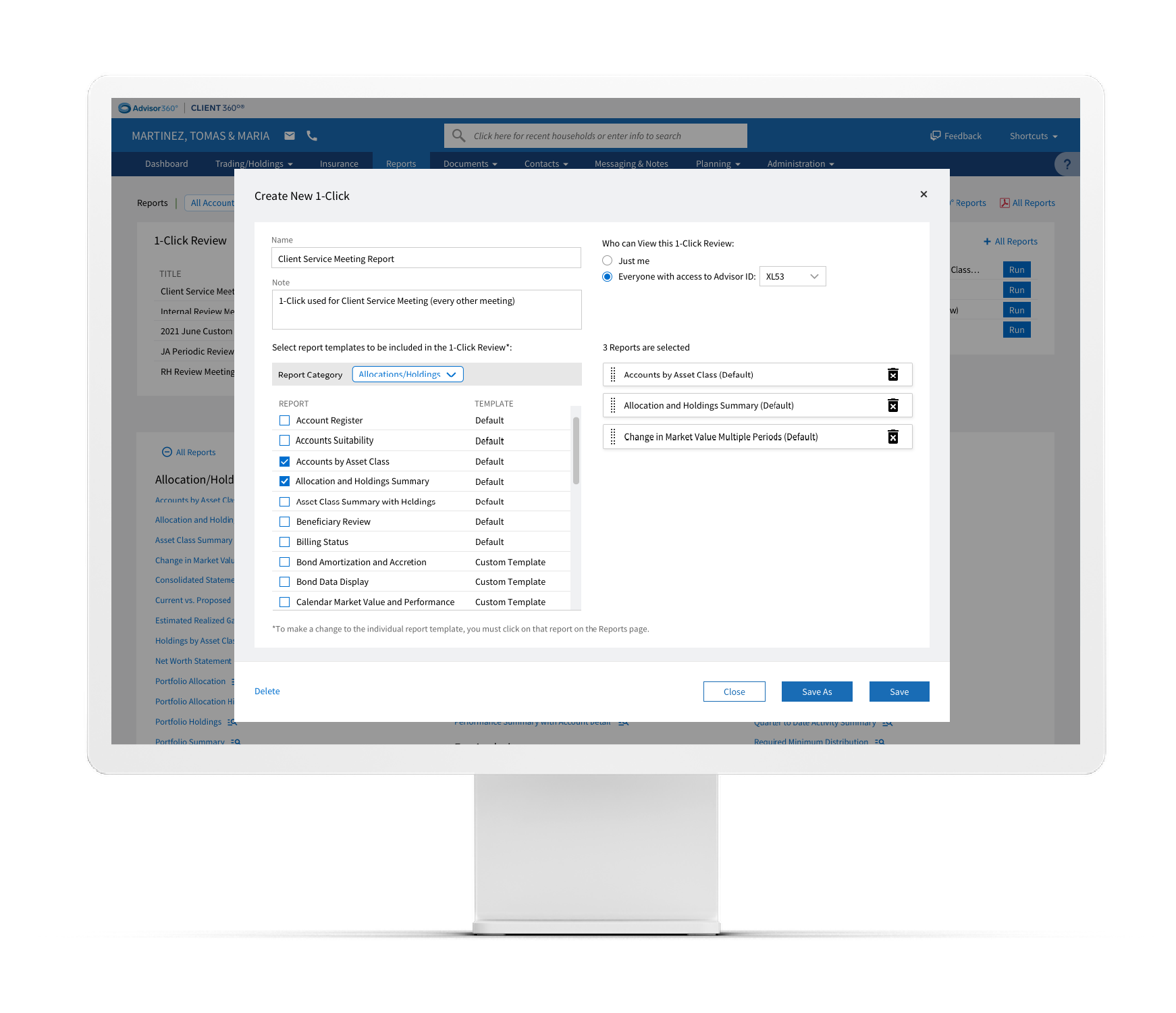 The breadth and depth of reports in our wealth management software is truly unparalleled in the industry, with 1-Click Review bundles including such varied and popular reports as:
Portfolio Summary
Portfolio Holdings
Consolidated Statement
Performance Summary (TWR)
Performance by Security
Historical Market Value and Performance Summary
Beneficiary Review
Required Minimum Distribution
Performance Summary with Account Detail
Detailed Portfolio Insurance Review
All this and more is included in our practice-level reports, which can be run across an entire book of business.
Practice-level reports help advisors manage their book of business by allowing them to easily identify potential red flags and other important information, including:
Clients who need to take a minimum required distribution
Accounts holding a specific security
Accounts with high cash balances
Missing account documentation
Insurance opportunities
The integration with our fee billing capabilities allows advisors to run reports to see the fee schedules on each account, expected fee revenue for an upcoming quarter-end, and uncollected fees, for example.
Watch a 1-minute video on 1-Click Reviews to see more.
2. Use filters to examine a book of business by segment
By default, financial advisors can run Advisor360°'s practice-level reports across their entire book of business. Those who want to get even more granular can use filters to break down their books of business into smaller segments of their practice (think teams of advisors, certain accounts or households, etc.).
Some of the filters that are available at the account and household levels include: value, cash available, Advisor IDs, account type, and investment objective.
Say that an advisor wanted to focus on just fee-based accounts that have an investment objective of growth under a specific Advisor ID instead of running a report on the entire book of business. They would just need to use our detailed account filtering to create a group of accounts that fall under that specific criterion.
The wealth management advisor can run most of our practice-level reports on those groups and zero in on a portion of their book, rather than their entire book of business.
What's more, filter criteria can be saved as a dynamic group so that any new accounts that meet those criteria automatically get added to the results in the future.
Frankly, there is no limit to an advisor's ability to slice-and-dice a book of business using these practice-level groups and our practice-level reports.
3. Use analytics tools to examine practice-level performance
Our reporting capabilities allow advisors to instantly see changes in household value, allocation, and performance without even having to run a report. Our powerful widgets and analytics allow advisors to get a pulse check quickly at the client and practice levels.
Advisor360° pulls much of this data into widgets and screens at the advisor and client levels. We also pull practice-level data into our analytics tool, so advisors can see practice-level performance, allocation, business statistics, and production. Advisors can also break the data down further by practice-level group or equity exposure and then compare it to their advisor peer groups to benchmark their own performances.
It's a wrap
There is no doubt that trading, model management, planning, and CRM functionality are important to an advisor's practice. But reporting also has a significant role to play and should not be overlooked. A reporting capability that is integrated with our UDF allows advisors to demonstrate their value to clients by serving them well and manage their book of business for future growth.
Advice360° offers tips and guidance to advisors on increasing their productivity through the Advisor360° wealth management software. Learn what other advisors are doing to benefit their practice.
Joe Marsh is Product Manager, Portfolio Reporting & Analytics, responsible for the strategic direction of portfolio reporting within our wealth and asset management software, emphasizing investment-related reporting.