To understand how something got to where it is, you have to start by going back to its origins—and the journey from then to now.
Advisor360°: origins
I started in the financial services business in 1994. I spent 6 years in finance, culminating with Y2K, when I helped build a new compensation system for Commonwealth Financial Network to ensure that we could pay advisors after the turn of the millennium.

Of course, Y2K was a complete non-event, but it was a major event for me.

It was then that I realized that the world around me lacked a translator, someone who could merge business needs with "tech geek speak." So I spent the next few years learning the ropes in technology.

My curiosity always kept me asking questions. And those questions often led to our software users telling me "you know what would really be awesome…?" or "you know how much easier my life would be if…?"

With the tech team at Commonwealth, I was able to translate the daily pain that advisors, their staff, and our home office staff felt into a technological cure.
Advisor360°'s Unified Data Fabric™: householding
One of the biggest pain points we heard 20 years ago was that the software people were using was

siloed

by account, person, or function—and that wasn't how people wanted to work. ​
I was naive at the time in terms of what the future held, but in 2002 I began a long series of conversations with a colleague of mine (@KolChuBirke) at Commonwealth. We discussed the concept of a "household-based platform" that could do all the functions an advisor needed to run their business from one location.

This was long ahead of the time when most companies were talking about platforms and ecosystems.

We began coding in 2003 on a household-model database that would eventually scale across functions and time. It was essentially a financial advisor and broker-dealer data warehouse, with households as the foundation. We rolled that system out to advisors later that year, and in 2004, Client360°® was born.
How to eat an elephant
I've never eaten an elephant (thankfully). As the quasi-sadistic saying goes, you can't eat an elephant all at once; you must slowly chip away at it one bite at a time.

And that was our platform model. Start with the

vision of a platform

and chip away at the most critical items needed in the appropriate order:

The first system rolled out in 2004 for

portfolio management/reporting

. It aggregated brokerage, fee-based accounts, and direct business held outside of a clearing firm for a consolidated statement of the client's entire portfolio. We then added

proposal generation

and

EasyFill™ form-filling technology

later that year. Then a

document management

function and

client portal

in 2005. In 2006, we added

CRM

function and compensation

analytics

. Then our first

mobile app

in late 2006 (5 months before the iPhone even existed!). Next up was

digital account opening

in 2007,

planning

tools in 2008,

fee billing

and

tax integration

(TurboTax®, Quicken®, etc.) in 2009,

trading/modeling

and

outside account aggregation

functionality in 2010,

customizable dashboards

and

WealthGuide®

in 2011, a completely new CRM system in 2013,

insurance

in 2015, more

advanced analytics

in 2016, and

compliant SMS/texting

in 2018.

ALL this while iterating each function in an Agile method along the way, based on user feedback.


The infinite feedback loop

One of the ongoing superpowers of my prior company is its tight-knit, incredibly connected community, and that enabled what I've often referred to as the "infinite feedback loop."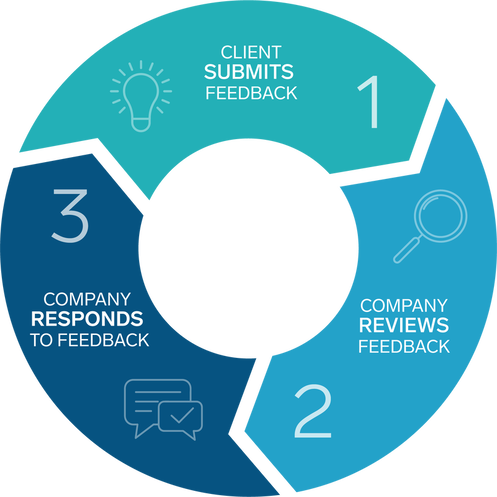 We would hear ideas and implement the ones that were most popular. On the technology front, once people started using the new software, they would provide feedback on how to make it better, and we would listen to—and implement—those ideas. And that cycle continues in perpetuity.

This is the nature of great software development, as there is no such thing as "completed" software. It can always be made better.

In 2006, to enable and encourage more feedback, we added links to every page of our platform to make it easier for users to give feedback. By 2019, we were receiving 5,000+ feedback submissions per year!

The most important part of the steadily increasing quantity of feedback was the trend itself. Human nature is such that if you give feedback to either a person or organization and they act upon that feedback, it encourages more feedback. Users know that they were heard.

The contrary is also true, that if people don't feel they are being listened to, they will simply stop sharing ideas.

The infinite feedback loop works only when you listen, think, act, and repeat. The trend quantifies and validates that we were both listening and acting on user feedback.

We recently announced that we overhauled our feedback system. We want to make it even easier for enterprises that license Advisor360° software to streamline feedback across the organization, to show users what has been released, what's in development, what's on the roadmap, and other ideas being considered.

Users can submit ideas like before, but now they can also vote on colleagues' ideas, and add different tags/categories for smart grouping, intelligently routing the feedback to the appropriate contacts in the home office to respond.

This newly designed system will allow Advisor360° to get aggregated feedback across enterprises, helping to shape our product roadmap from an even greater sample set of users.
The end game: productivity
Advisor360° is the productivity platform that enables digital transformation for financial services firms.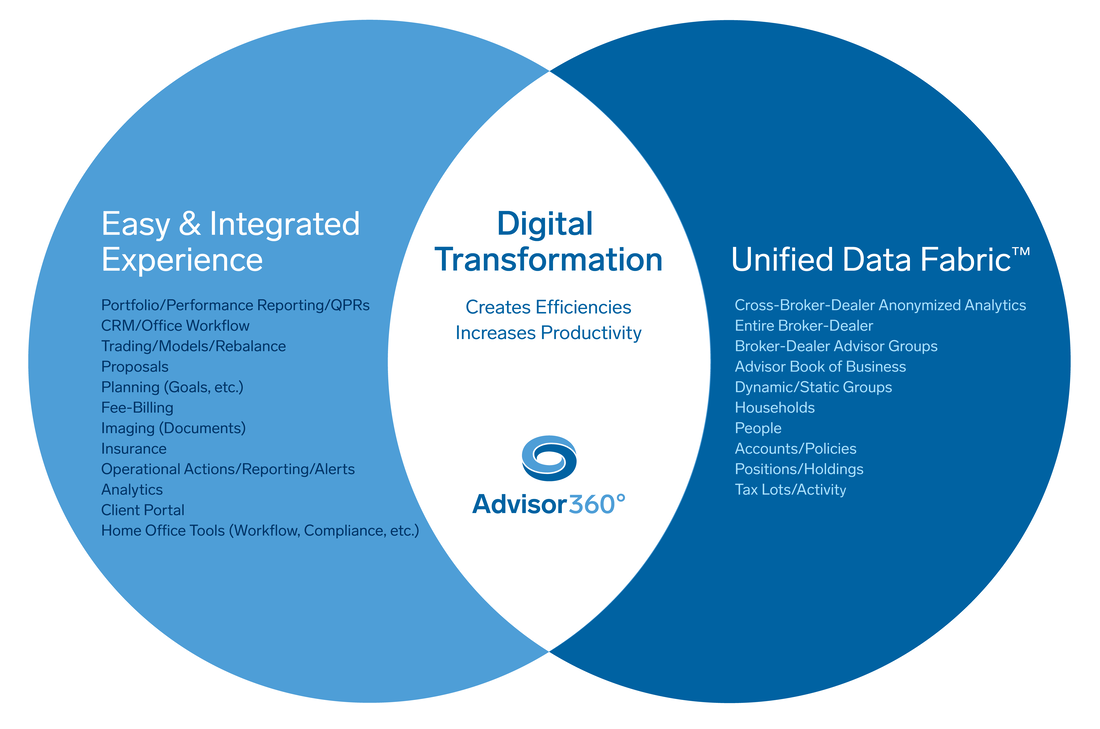 ​Commonwealth Financial Network has realized the benefits of this platform for two decades. It has outpaced peers at growing advisor productivity and now has some of the most productive advisors in the industry. There are two core elements that help achieve this productivity.

The first is a foundational Unified Data Fabric (mentioned above). It was first envisioned 20 years ago as a household data model, which permeates and crosses all software sleeves of the platform that our users leverage.

The second is a maniacal focus on the user experience (UX). Teams of people who are certified usability experts or who have degrees in human factors work at Advisor360°. Having a fundamental understanding how people use software and knowing how to create a unified (and beautiful) interface across all elements of the platform helps users spend less time learning and using the technology—which drives satisfaction and adaption.

Driving adaption is critical, because even if you have the best technology in the world, if someone doesn't use it, it's worthless.

Customization of our application is also an important element of usability. There is one thing that you learn quickly when working at an independent broker-dealer: people don't join an independent broker-dealer to be told what to do. And since our software was born inside an independent broker-dealer, the software design reflects that philosophy.

We built our software to easily work "out of the box," with persona-based templates/setup, but with almost an infinite number of tweaks and settings available to end users who like to customize their software (e.g., our most popular portfolio report presently has over 100 million combinations).
WealthTech that enables digital transformation™
In the end, technology is simply a means to an end. That end is to create efficiencies, save money, and spend more time on higher-value activities. That same technology also allows organizations to be more effective, including creating new ways of working through valuable business insights and analytics.

​Our Unified Data Fabric, combined with a deeply integrated, scalable, and seamless user experience, enables that transformation, which ultimately benefits the bottom line.

Darren Tedesco is President of Advisor360°, and has been part of our software development since its inception, bringing together the thinkers, creators, and visionaries that help power our clients' productivity, profitability, and growth.