A financial plan has little value if it is simply based on a standardized set of inputs. Before action items and money movements can be made, there must be a relationship built between the client and advisor. Once the playing field has been level set through probing questions about the client's attitudes about money, overall values, and even goals (a sometimes-daunting term), a well-thought-out plan can be constructed.
Today's advisor should have a framework by which to help them craft plans, but the right technology is also needed to capture the client's unique needs and aspirations. Advisor360°'s WealthGuide® plays a pivotal role in organizing all aspects of a financial plan and, more broadly, the relationship between the client and advisor. Tracking decisions, advancing collaboration, and demonstrating total value beyond traditional investment allocation, performance reports, and insurance planning is what WealthGuide delivers.
Customizing the firm's template to speak to your niche
Do you ever feel constrained by a process? Sure, the Type A personalities out there might prefer a stepwise approach to financial planning, but being able to pivot when necessary often makes for a more effective plan. One of the standout features of WealthGuide is its flexibility. While advisory firms often create a default template, that merely serves as a starting point for an experienced advisor. The foundation no doubt helps new advisors understand the fundamentals of planning activities, but long-time wealth managers can tweak things to their liking.
Here's what we mean: If you specialize in working with business owners, you can easily make a customized template for that niche. Topics such as business succession planning, employee benefits, and tax strategies might be where you spend much of your time, all tailored to the needs of your business-owner clients. The advisor has the freedom to drop certain topics that don't apply and add others that fit a particular client set.
Tracking decisions with notes: Client-friendly vs. advisor-only notes
The planning process can sometimes turn messy if meeting notes and action items are not promptly addressed. Keeping good notes is a must. Determining where to organize summaries of client meetings, notable events across the various stages of a client's financial life, and important upcoming deadlines sometimes becomes challenging. WealthGuide solves this common issue for advisors. The "Notes" feature makes recordkeeping efficient—not just for you, but also for the client.
Client-friendly notes are designed to be shared with clients and they provide a transparent view of the thought process, decisions, and follow-up discussions that took place in meetings and over subsequent phone calls and chats. This is a critical feature in WealthGuide because it promotes buy-in from the client. They can see what they must accomplish before the next meeting, and they know what you as the advisor are working on.
Advisor-only notes, on the other hand, keep you on track by organizing collections of observations and internal details not visible to the client. You can house reminders and other sensitive information with these notes—maybe even a few mnemonics or the names of the client's children and relatives to help aid you in showing the client you're listening and understanding their family and concerns.
Collaborative planning to keep the client engaged
There are many practical and data-driven features of WealthGuide, but perhaps its biggest advantage to an advisor is that the entire design is to stir up client action. Effective engagement can be a tall task, but when clients see that their financial advisor has all the bases covered through WealthGuide, then confidence is built. That trust leads to a heightened sense of involvement. What's more, there is a behavioral trick at play in that a client will not want to disappoint their advisor by neglecting a key action item. After all, WealthGuide helps ensure the advisor is always on the ball with what needs to be done.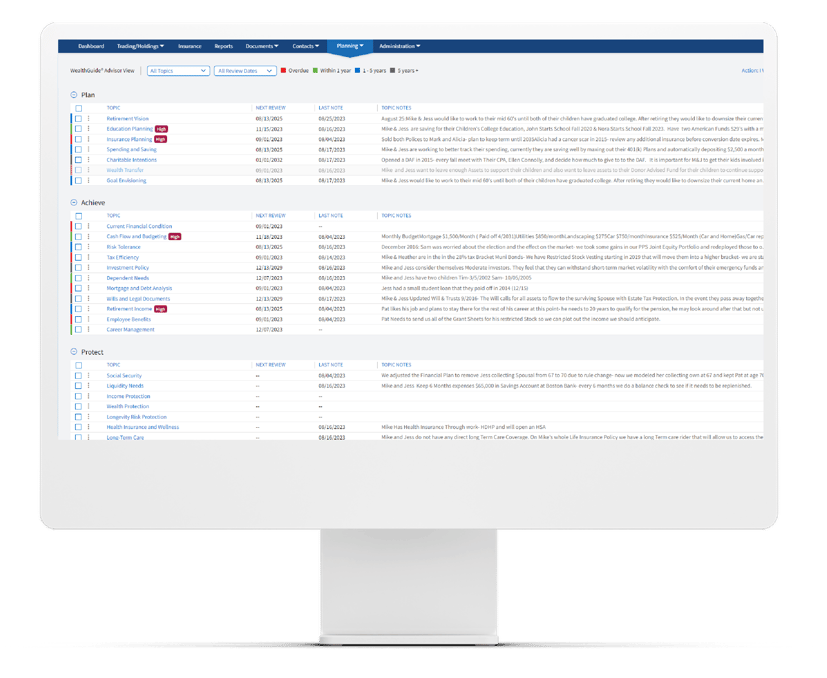 At client meetings, a personalized view of WealthGuide can be reviewed. You and the client might perform a goals check, review past meeting notes, and include new financial objectives to add to the program. Furthermore, an advisor can create new topics related to mending a client's past money missteps and even address their financial fears through WealthGuide. These actions empower clients to be active in their financial journey. They can provide updates, ask questions, and make informed decisions based on the real-time information presented in WealthGuide.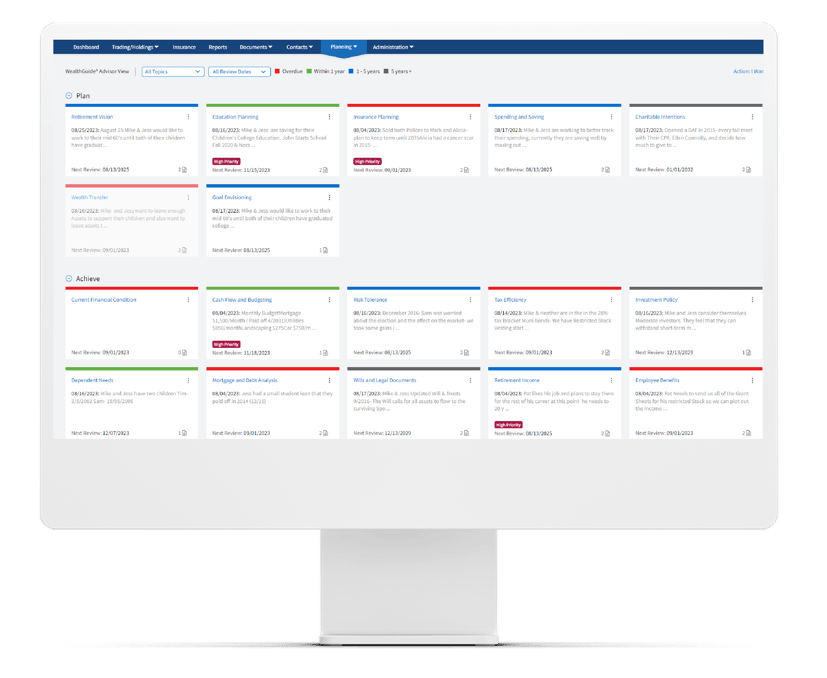 All of these updates, notes, and activities integrate with your firm's CRM system through what's known as tagging. The name of the game here is efficiency. The advisor can quickly tag a discussion with a "Retirement Planning" or "Cash flow" label, and then refer to that tag for future needs. Additionally, you have the option to tag notes, appointments, tasks, phone calls, letters, emails, or any other type of client interaction.
For instance, if you have a longstanding client that years ago told you what their pension options were, you can leverage the power of WealthGuide tags as a sorting and filtering tool. You can search for a tag related to retirement discussions and workplace benefits to find that information quickly. The tagging system simplifies the process of hunting down important tidbits related to any planning activity—it ensures that no key details are lost in the vast sea of client information.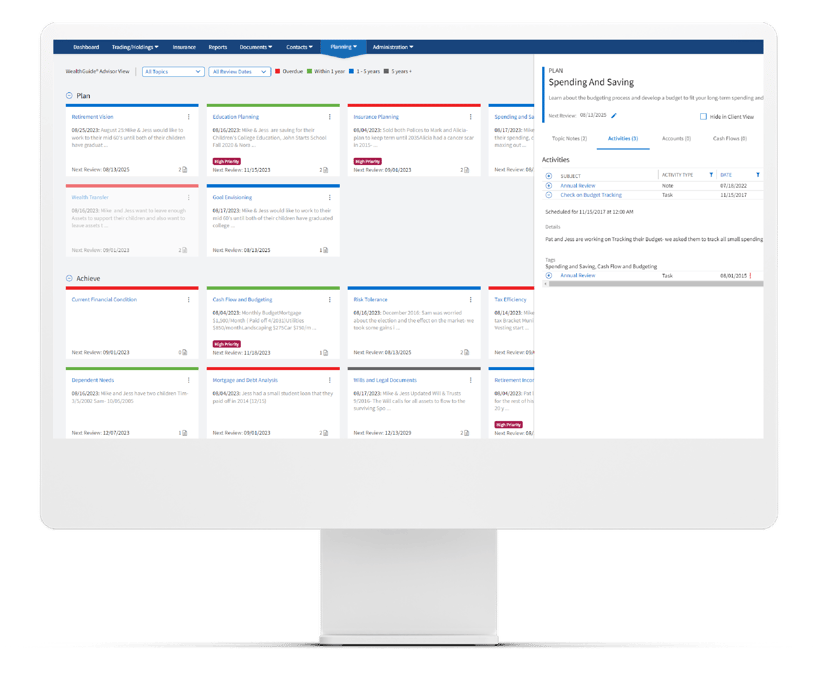 Tracking accomplishments
Some clients have everything together. Others, however, have major holes in their money lives. Many advisors use WealthGuide to tally accomplishments over time. Suppose the spouse with the higher income does not have life insurance. You can add the task and then mark it achieved once the insurance is procured.
Tracking an accomplishment works because it motivates the client to be proactive and showcases the advisor's value and skill in improving their financial life. A dedicated section of topics highlights a client's progress and achievements, which also reveals the tangible benefits of the advisor's services.
Demonstrating total value beyond investments
Ultimately, WealthGuide helps advisors go beyond traditional planning tasks. It helps cultivate client relationships and gets both the advisor and client to always see the big picture without forgetting the little details along the way. Through customization and client engagement, financial goals and broader missions can be identified and accomplished. WealthGuide's topics hit on every aspect of someone's financial journey, including the ups and downs that come with life, not just some vague goal of hitting a cold retirement dollar figure. Planning is beyond just reviewing the percentage of success from a Monte Carlo analysis—it is constantly adapting as clients' lives change and making sure you are looking at all areas holistically, ensuring that actions and decisions are made based on their ultimate goals.
The bottom line
A standardized approach to wealth management is not enough. It can even work to the detriment of a client's financial plan for people with complex situations. WealthGuide is a tool for advisors to build client trust, grow their wealth, protect against risk, and nurture long-lasting relationships. It serves as a program to deliver tailored financial planning services, keep meticulous records, foster deep client connections, and showcase value beyond just asset allocations and performance reports. Advisors can stay ahead of their competitors and bring significant value to clients using WealthGuide to its potential.
Patrick Noonan is Product Manager for Wealth Management and Insurance. Backed by his years of experience as a Certified Financial Planner (CFP®), Patrick defines and oversees product features that improve broker-dealer, advisor, and investor performance and efficiencies in the banking, investment, and insurance industries.
©2023 Pershing LLC, member FINRA, NYSE and SIPC, is a wholly subsidiary of The Bank of New York Mellon Corporation (BNY Mellon). Pershing LLC and Advisor360° are separate unaffiliated companies that are not responsible for each other's services or policies. Trademarks, service marks and logos belong to their respective owners.