A strong team needs structure. The right guardrails and firm-wide processes establish a certain way business gets done. From there, advisors can develop their own niches and add personal touches. Without a foundational guide, however, important tasks, goals, or objectives may get lost, and the last thing you want is for the client to lose confidence.
This is where Advisor360°'s WealthGuide® steps in. It is designed with both the advisory firm and individual wealth manager top of mind. At the firm level, it is a comprehensive process development tool that helps companies streamline and enhance their services while providing clients with education and marketing material to assist the conversation
WealthGuide's features
WealthGuide operates on the principle of customization, and it recognizes that every firm has its own style of serving clients. We'll focus first on the Planning tab and template design features of WealthGuide and how they can help your business run more smoothly and grow. Templates can be considered the blueprint for running a successful financial planning firm.
We find that teams often prefer the Card View at the household level. This provides a holistic view of the planning process and guides a client or potential client through the areas you are focusing on during their financial journey. Everything from retirement and protection planning to cash flow and liabilities—WealthGuide covers a myriad of financial planning topics that advisors are helping with today.
From there, advisors can view the same topics as a table. WealthGuide brings in CRM notes, accounts, and cash flows while allowing the advisor to personalize a note for the client on a specific subject. A team of advisors can quickly get up to speed with a client's situation in the Full Page view, which displays Topic Notes, CRM Activities, Linked Accounts, Cash Flows, and Firm Resources.
Creation of templates by firms
Among the most significant value-adds of WealthGuide for financial advisory practices is the ability to seamlessly track every step of the financial planning process through templates—even steps that are specific to a particular type of client. The speed and efficiency of the templates and their structure create consistent procedures across the firm. Moreover, templates serve as frameworks that advisors can follow when working with clients. There are three primary advantages to WealthGuide templates at the firm level:
Consistency: Not only do all advisors at the firm access a central planning tool, but clients also become familiar with how the planning process is done. There are no bespoke or ad hoc tasks—all of it is captured in WealthGuide.
Time Efficiency: As your advisors become well-versed in WealthGuide, they may find that time is freed up to focus on other high-value planning activities and strategies. Likewise, hours saved from entering notes and connecting dots in the life of a client means more face time for client connection. Lastly, business development opportunities may come about more frequently through the efficient use of WealthGuide.
Compliance: Since all client communications are housed in WealthGuide and available on demand, regulatory requirements can more easily be met to reduce the risk of oversight.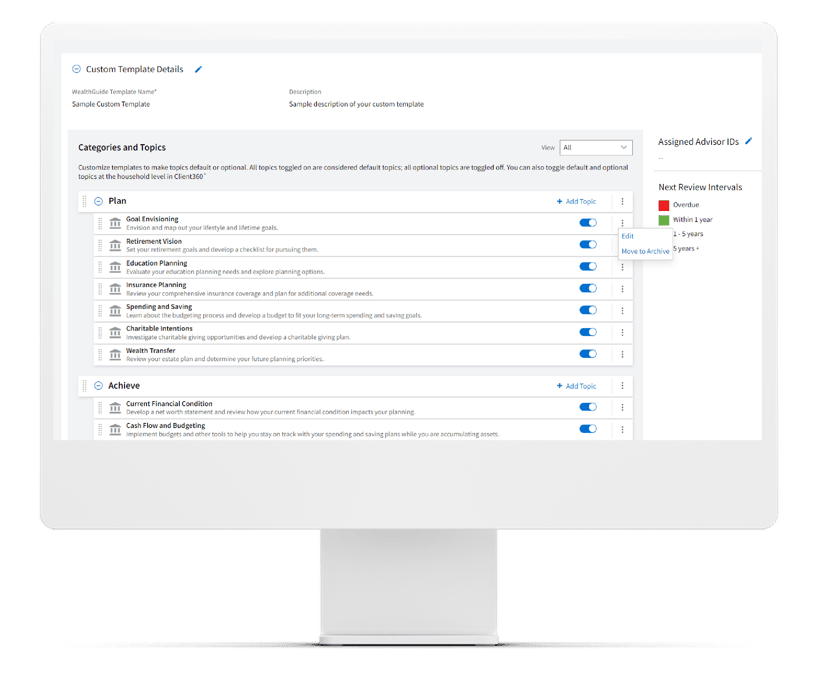 Preloading templates with education and marketing materials
Templates are not merely blank canvases. Advice subjects are added that can have supporting materials to help all advisory firm employees get up to speed if needed and foster business development. Educational materials, such as articles, videos, and interactive tools, can be shared with clients, too. Getting clients to buy in with the plan is sometimes a challenge, so WealthGuide's templates serve to prompt action.
Part of the overarching design of WealthGuide is to help advisory firms grow their business. The templates may be harnessed to subtly promote various services. For instance, a retirement planning template could become the launching pad for a specific strategy or process that is unique to the practice. That template might then be leveraged to create marketing materials and a promotional campaign.
Selecting topics for templates: What's necessary and what's occasional?
There's no one-size-fits-all set of templates on which your firm should focus. Rather, selecting a set of templates becomes like your company's fingerprint and value proposition. Not every financial planning topic must have a template, and some activities might be needed on rare occasions. Here is a helpful way to consider which templates might make the most sense for your practice:
Essential topics, like retirement planning, estate planning, risk management and insurance, investment planning, and cash flow strategies are core activities that should have a template. These backbone topics are critical to the client's well-being, and WealthGuide makes it easy for a firm to construct standardized process flows around them. For example, since retirement planning is often the most common activity, tasks like retirement savings, income planning, and Social Security optimization are often included with this template.
Some topics may not apply to every client and are somewhat rare events in the financial planning process. WealthGuide recognizes this reality, and events such as the death of a spouse, while a major planning challenge, are not always relevant to all client circumstances. Firms can include it in the template but then toggle it off when it's not needed. This feature helps the firm's advisors remain focused on timely activities.

Beyond investments and asset allocation: WealthGuide's focus on holistic planning
Advisors are increasingly being called upon to shepherd individuals and families at every stage of their financial lives. From debt management for a young couple just looking to get on their feet, to cash flow analysis for that first-time homebuyer, to saving for a child's college education, advisors are there every step of the way for families. Then, as life progresses, the focus shifts to life after work; retirement planning isn't just a numbers game, either. Advisors are tasked with creating life plans that deal with an array of topics such as health care decisions, estate planning needs, and savings strategies to ensure people do not outlive their assets.
WealthGuide is built with this multifaceted nature of financial advising front and center. It provides a firm with the means to track and meet all the needs of today's clients. By equipping advisors with templates, education, and marketing materials, wealth management firms are empowered to provide more comprehensive and efficient services.
The bottom line
WealthGuide can elevate a financial advisory firm's processes to build client trust, save time, and grow the business. Through tailored and effective templates that cover all aspects of the growing financial planning task list, better and more holistic financial planning work can be accomplished.
Patrick Noonan is Product Manager for Wealth Management and Insurance. Backed by his years of experience as a Certified Financial Planner (CFP®), Patrick defines and oversees product features that improve broker-dealer, advisor, and investor performance and efficiencies in the banking, investment, and insurance industries.
©2023 Pershing LLC, member FINRA, NYSE and SIPC, is a wholly subsidiary of The Bank of New York Mellon Corporation (BNY Mellon). Pershing LLC and Advisor360° are separate unaffiliated companies that are not responsible for each other's services or policies. Trademarks, service marks and logos belong to their respective owners.