The CFP® board has outlined a seven-step financial planning process to help guide CFP certificates through the planning process with their clients and prospects. In this series of four blogs, I am going to show you how Advisor360°'s platform helps facilitate this process by providing efficiency and an enhanced client experience.
In this blog, I will discuss step one of the seven-step financial planning process: understanding your client's personal and financial circumstances.
Step 1: Understanding your client's personal and financial goals
The first phase of Step 1 is to assign your client or prospect to your configurable new client workflow. Workflows will assist you and your clients through the necessary steps of gathering and storing data. Below are a few activities that can be included in a workflow.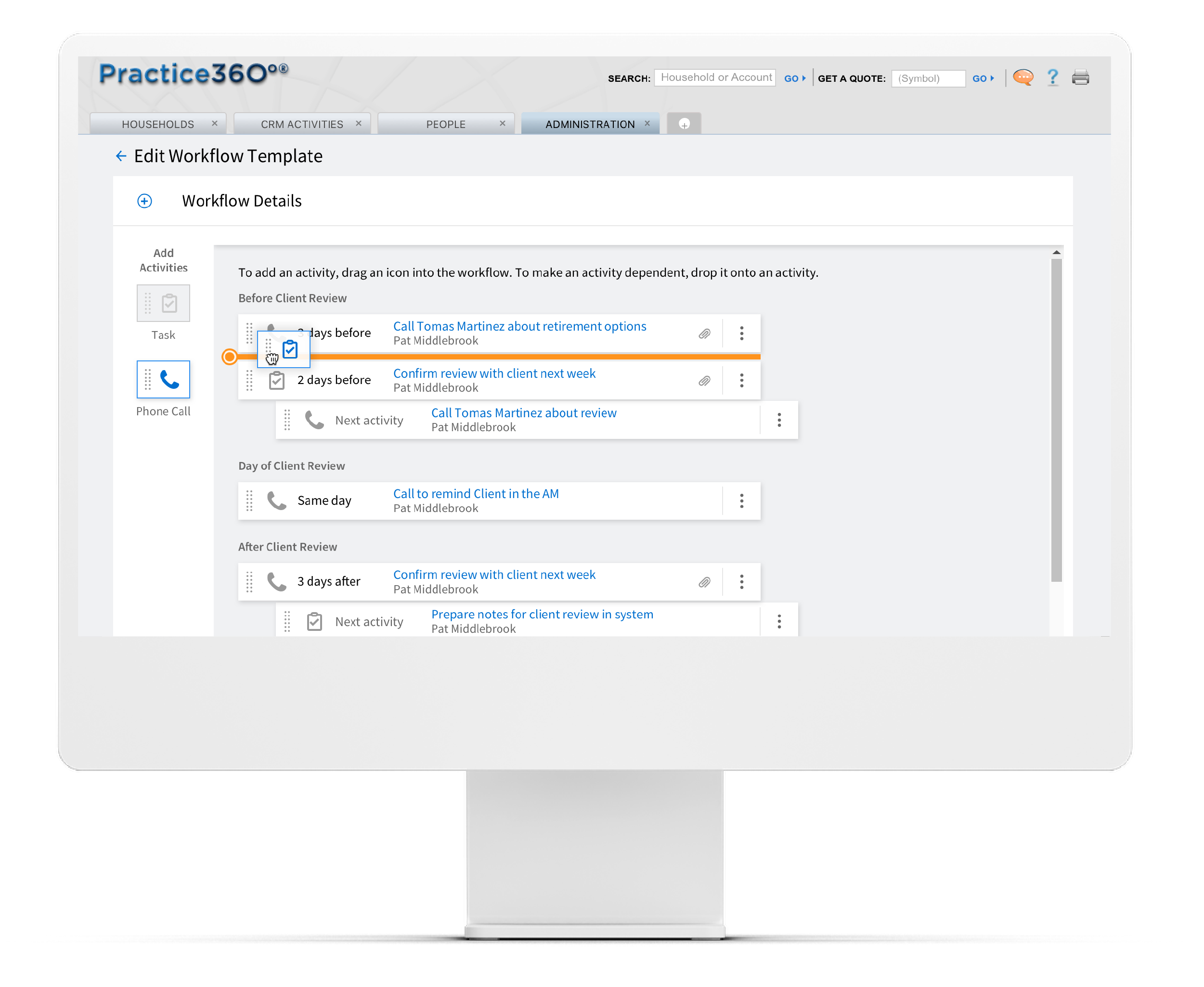 Schedule meetings and meeting reminders: Schedule all your meetings and meeting reminders and deliver agendas through Investor360°®'s secure messaging.
Investor360° access for account aggregation: Set up access to our Investor360° platform so that you can begin account aggregation. This is a service that brings in outside investment accounts and liabilities, reducing the need for manual data entry and automating account updates.
Document vault to store important docs: Upload and organize important documents in our document vault in Investor360°.

Capture assets, liabilities, and cash flows: Capture everything learned about the client within our platform. We also just released our new Outside Assets capability that expands the data we collect on assets and liabilities. This gives us the ability to manually add in any information that we would not receive from a data feed like property, art, or collectibles. Lastly, you need to capture your client's cash flows. We have recently added income, savings, and expense forms to better gather and store data on your clients' current and future cash flows.
Now that we have gathered the necessary information to properly understand your client's current financial situation, we can move on to identifying, analyzing, developing, and presenting their goals. These are steps two, three, and four, and will be covered in next week's blog.
See all seven steps in the financial planning process.
Patrick Noonan is Product Manager for Wealth Management and Insurance. Backed by his years of experience as a Certified Financial Planner (CFP®), Patrick defines and oversees product features that improve broker-dealer, advisor, and investor performance and efficiencies in the banking, investment, and insurance industries.