Phew, what a year.
There's nothing like a time of adversity to forge a new company. Many thanks to our clients, investors, and especially our employees for their commitment to our mission of building a great WealthTech company that does well as a business and does good in the world.
One year into my tenure here, there were lots of learnings, building and growing in a pandemic. We made it through, and we are positioned well for the future, helping clients achieve digital transformation.
Digital transformation of wealth management—what does that mean?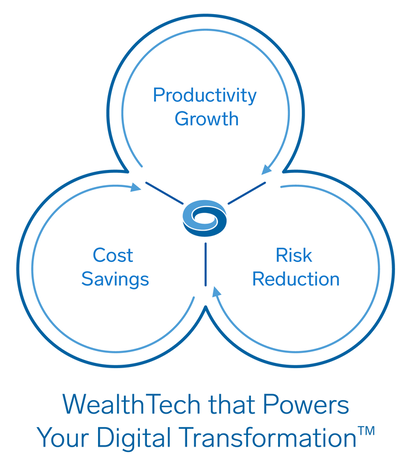 Digital transformation WealthTech means leveraging technology to:
Increase advisor productivity and drive sales/AUM growth
Increase advisor satisfaction
Sell more and different product types to your clients:
•

If you are an insurance broker-dealer, sell more investments or banking products
•

If you are an independent broker-dealer, sell more banking or insurance products
•

If you are a bank broker-dealer, sell more insurance or investment products
Recruit and retain more advisors
Reduce your costs as you build your business
Reduce your risks and increase your regulation compliance with:
•

SEC
•

HIPAA
•

FINRA
​•

SOC 2
•

GDPR/CCPA

Empower advisors to become an investor's "personal CFO"
In my discussions with broker-dealers, these benefits have emerged. But what does Advisor360° bring to the table?
Today, many wealth management companies have been using homebrewed systems or manual processes to operate their businesses. While these systems and processes have brought companies to this point, what about the future?
The paradox of choice
Some companies have chosen to assemble their own solution stacks from the parts bin that is the WealthTech industry. There are so many parts to choose from.
Choice is good, until it is not.
All the different choices are supposed to make you better off, but they can cause paralysis and actually make you worse off.
—Barry Schwartz, The Paradox of Choice
The implication of too much choice is that an advisor's/user's experience is more complex than it needs to be. Each choice of a technology component is often narrowly optimized, without consideration for overall user experience.
Choosing siloed technology components is like building a house without an architect. The homeowner picks random home design components and hopes that the turret looks great on the ranch-style house, with a dormer, farmer's porch, shutters, lanai, and solar panels.
Lastly, companies are often required to do their own integration work between and among dozens of software components and data sources.
The productivity dilemma
Even if the front-end interface is done well, the user experience is complicated because the challenge is that there is no common underlying data set (no architectural plans) for the workflows from trading, reporting, portfolio rebalancing, customer household information, document management, planning, proposal generation, etc. As the "arms race" in technology continues to accelerate, the investment to be a competitive broker-dealer with amazing advisor and client portals becomes a major expense.
However, it's not just about cost, it's about the user (home office employee, advisor, client) experience. Our focus at Advisor360° is all about producing productivity for the advisor and the win-win of advisors and broker-dealers growing their sales and assets under management (AUM).
At Advisor360°, our Development team has a dual skill set: deep enterprise software experience and financial services backgrounds inside a broker-dealer. Our Advisor360° team is tuned to the mission of being a premier WealthTech software company. Our advisor users are some of the most productive advisors in the world. Our platform is proven at scale and services thousands of advisors each day, and soon millions of households.
Dealing with data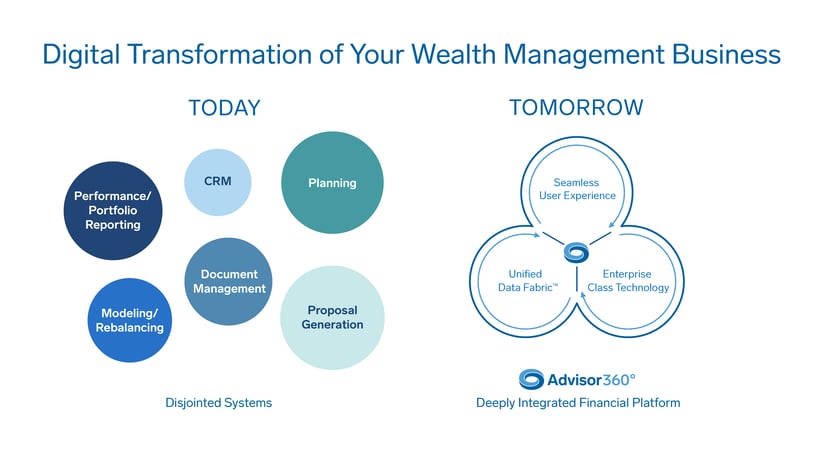 With integrated technology, advisors, IBDs, and RIAs experience:
44% more clients served
73% higher AUM
20% more time for clients
Reduced risk exposure
Large reduction in costs
So, how do we produce this value?
It's all about the data. It's all about how we gather, collect, cleanse, and present the data. We have over 400 direct data feeds that we ingest daily; this data is reconciled, scrubbed, and enriched using automation, AI, and in some cases, human intervention. Further, this cleansed data set is stored in what we call our Unified Data Fabric™ (UDF). The UDF includes all customer information, such as trades, books and records, products (aggregation), documents, compliance information, goals and objectives, workflow, etc.
This data is not organized by account, rather, it is organized by household.
This allows for a holistic view of the client between and among all the software components of the Advisor360° platform, beyond what other WealthTechs describe as a "unified experience."
Advisor360° is not just a common UI with single sign-on. We offer a seamless experience because the UDF presents a common household data view from the home office, through the advisor portal, to the client portal. And you cannot buy your way into this experience or UDF—it must be built.
Further, this experience is delivered as an enterprise-class SaaS offering to broker-dealers and their advisors and advisors' clients. "Enterprise-class" means hardened, secure, and highly available. The Advisor360° system is a hardened enterprise-class solution that has been delivered at scale for years and meets various SOC, FINRA, and SEC regulations.
What have I learned?
The wealth management business is ripe for modernization through technology (a.k.a. digital transformation). Wealth managers (broker-dealers and advisors) are under pressure from:
Changes in regulation and compliance requirements
Increasing investor expectations around returns and satisfaction
Low interest rates' impact on their business models
Their need to drive product sales, AUM growth, and advisor satisfaction and productivity
Keeping up with the technology arms race in financial services
The market needs a full-featured AND easy-to-use deeply integrated platform for broker-dealers, their advisors, and clients. This software must be delivered as a service (SaaS). This WealthTech (Advisor360°) must be delivered as an enterprise-class solution at scale to be the trusted platform for broker-dealers to: 1) grow their business; 2) reduce their costs; and 3) reduce their risks.
The benefits to broker-dealers and their advisors and clients are significant—unlocked with the Advisor360° suite of software that can be taken in their entirety or as bundled components. Born inside of a broker-dealer, we have now evolved into an enterprise software company that is delivering our software as a service to other broker-dealers.
That's our digital transformation.
Richard Napolitano is Advisor360°'s Chief Executive Officer, ensuring every team in the company is focused on a simple strategic vision: creating outstanding WealthTech products for our clients' success.